Welcome to the Decorating side of Decorati!!
What is the Decorating process?
Step 1: Initial Consultation
- Discuss decorating needs and goals
- Timeline
- Budget and Pricing
- Business Agreement
Step 2: Initial Design
- Initial design presentation
- Refine needs and goals
- Identify additional resources (painters, electricians, contractors, etc.)
- Refine Budget
Step 3: Sourcing
- Final Selection of finishes
- Order furniture, art, accessories and other items for purchase
- Review Schedule/Timelines
- Manage Furniture/Product delivery and Inspection
Step 4: Decorate
- Installation
Our decorating services include:

Discussing your needs, dreams, and desires for your home

Helping to create a plan that fits within your timeline and budget

Creating a path for "getting there"

Sourcing materials (Furniture, Lighting, Accessories, Renovation products- paint, tiles, etc.)

Materials order management

Delivery supervision and product inspection

Decorative installation

Specialized Services Include:
Saw it in a magazine or an online decorating site? Want to do it yourself? We can still help! WFI Service ("We'll Find it ") Service is for you. Share the picture with us and we'll find the pieces at the best prices! Our resources include To-The-Trade-Only Manufacturers and Dealers. This allows us to provide you with furniture, lighting, and accessories that possess superior quality and long-lasting value.
Personal Furniture Shopping
Creating a look and shopping for furniture can be daunting even when you know what you want. We save our clients time by shopping on their behalf. Many of our sources are "To the Trade Only" ensuring that your look will be uniquely yours with the best quality the market has to offer and within your budget.
Buying a new house, but need help picking tiles, paint colors, flooring, and lighting packages? We can walk you through this at your builder's selection location, model home, or construction site.
If you already have a favorite store and don't mind paying retail prices, we can accompany you while you shop. We'll make recommendations based on your project goals and budget.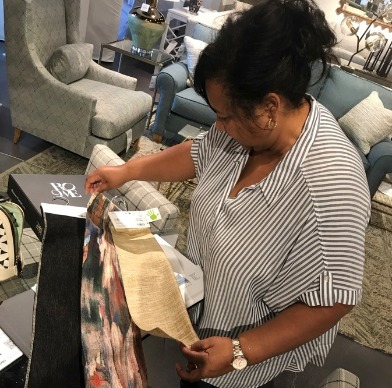 Design Fees:

Our design fees can vary depending on the size and scope of your project. No project is too small or too large. Below provides a general guideline of our pricing:


Initial Consultation $250-$750
This includes a meeting to tour your property and discuss your decorating needs. We will measure and photograph the space with your permission. We will provide a follow-up design concept along with a high-level overview of the cost of completing your project.
Varies by size and scope of the project $350 - 1500/per room
Our fees are based on your project, and we treat each project accordingly. We create a design that is unique to your space and your requirements. To deliver on your vision, we will provide samples of fabrics, paints, flooring, and tiles. We have nearly unlimited resources for furniture, lighting, hardware, art, and unique accessories. It will be uniquely you!!
Trade commission is our fee for locating furniture, renovation products, accessories, and lighting. For example, if we locate an accessory that costs $100, the trade commission is 10% of $100 = $10. We literally travel to our vendors' shops and showrooms to see items in person, touch fabrics and test seating.
We charge an hourly rate for Finishing Support and Retail Shopping Services (described above).